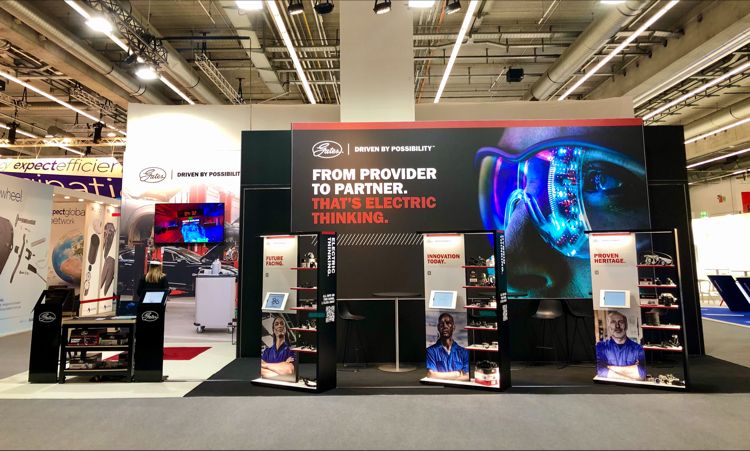 Electric Thinking for Today and Tomorrow
On its return to Automechanika, Gates selected 'Electric Thinking' as a key theme for its show stand. This theme supports Gates' belief that to manage a successful transition into vehicle electrification, automotive repair workshops will need relevant products and technologies.
Electric Thinking for Today and Tomorrow

A short film, premiering at the show, illustrates Gates' commitment to innovation by developing new solutions for the next generation of automobiles. The story focuses on Senteret, a family- owned garage based in Norway – a country that is leading the drive towards a more complete Electric Vehicle (EV) parc.
"We want parts distributors to know that we will be doing everything we can to help them inspire their garage customers as they adapt to the new opportunities that electrification can deliver," said Steven Zimmer, VP Automotive Aftermarket, Gates EMEA. "We are extending our product ranges, introducing new ones, and developing specialist technical support networks to help get them charged-up and ready for an electric future."
Successful Original Equipment (OE) collaborations have enabled Gates to develop aftermarket parts programmes for Hybrids and EVs. When it comes to new powertrain systems and technologies, Gates is at the forefront of vehicle systems design and the development of dynamic systems capabilities.
"We develop and manufacture parts. We understand the market. Such expertise allows us to set standards for quality and reliability in the aftermarket, which represents a significant part of our business," highlights Steven.
EV batteries require precise temperature control via the thermal management system. Moreover, the materials used in these thermal management hoses are evolving to include thermoplastic designs for weight savings, greater flexibility, and easier installation. The Gates E-CoolTM range of Electric Water Pumps is designed to meet or exceed OE specifications. The Gates range of OE- exact Modular Coolant Hose assemblies for EVs and Hybrids include any standard fit sensors, OE-exact connectors and are made from the same materials as the OE products they are designed to replace.
"We also supply Electric PowerSteering belts, Electric Parking Brake belts and have additional plans to add replacement parts for EV HVAC systems. For Hybrids, we recently announced extensions to the E-Start™ range as well," says Steven.
Each E-Start Kit part number includes an E-StartTM Micro-V Belt plus the related E-StartTM Micro- V Belt Tensioner and any Idlers needed for specific applications. Gates' customers will be excited by the latest extension, which includes popular models such as the Audi A4 2 Mild Hybrid and the Audi Q5 Quattro 2 Mild Hybrid.
Casper Haenbeukers, VP, Global Engine Systems Powertrain Engineering, said that it was the launch of the E-StartTM range that helped build the association of Gates belts and kits with a wide range of Hybrid vehicles. However, he states Gates will continue to develop and support the legacy products for the Internal Combustion Engine (ICE) market:
"By 2030, it is estimated that only around 8% of the car parc will be fully electric in EMEA. The remainder will be largely Hybrids, in any configuration, featuring ICE technology such as power recuperation systems and power boost modes. Many will be fitted with Gates belts and tensioners that are designed for maximum efficiency and durability."
The future is a more electrified vehicle parc. That means opportunities for distributors and their garage customers in the independent aftermarket. In order to manage the successful transition, they will need more information. They will require the right parts from the right brand. Steven Zimmer points out that Gates is already able to supply market-leading products for EVs and Hybrids:
"We are already able to demonstrate great coverage on many of our ranges, we have dedicated installation guidance, professional tools, technical tips, and expert training programmes. Gates is well placed to be that brand."