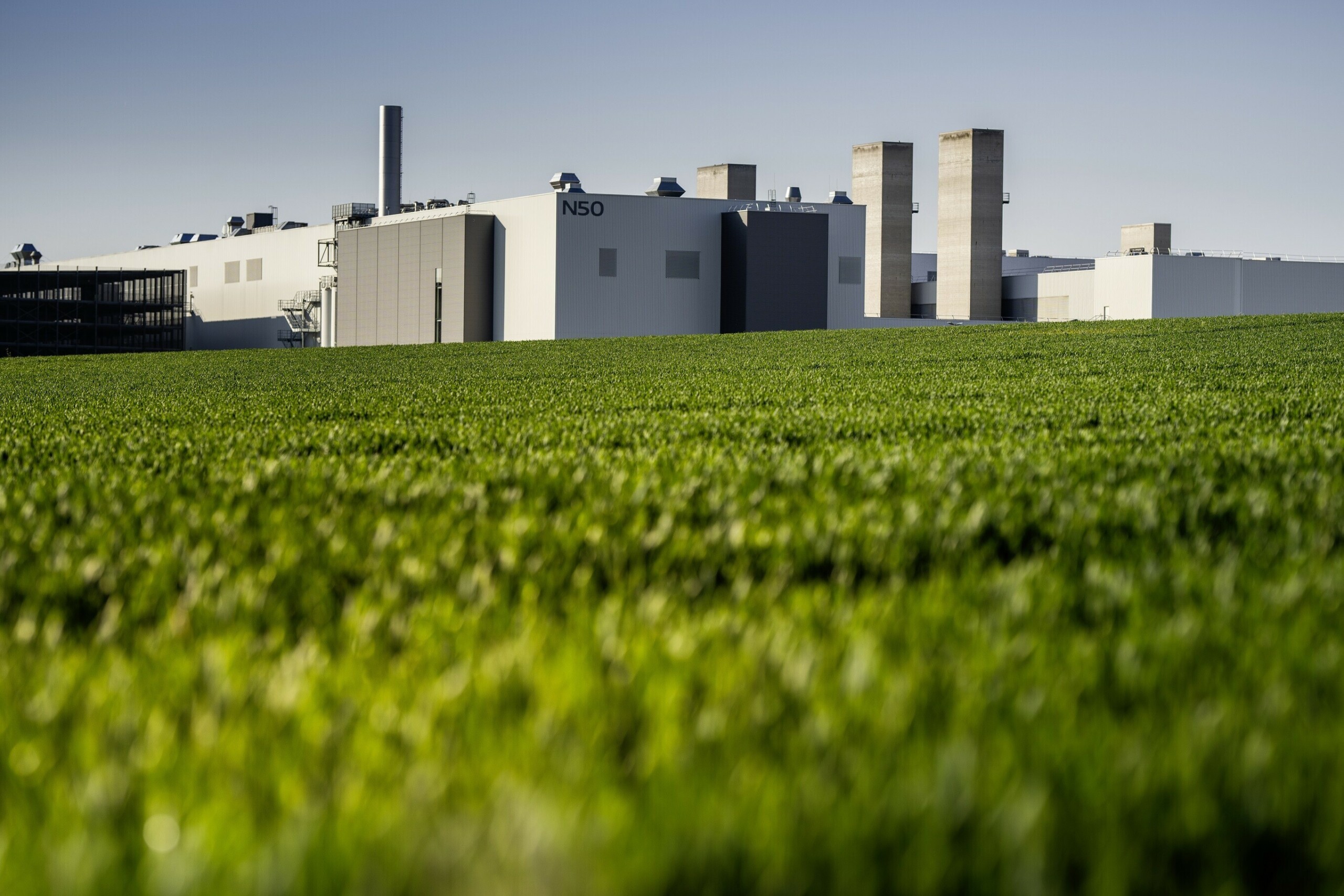 Audi Ingolstadt to achieve net carbon neutral production in 2024
The Audi plant in Ingolstadt will begin net carbon-neutral production on January 1, 2024. The main plant will commence building the new Audi Q6 e-tron series next year. After Brussels (Belgium, 2018) and Győr (Hungary, 2020), it will be the third Audi plant to operate with net zero emissions. In addition are the Audi R8 and e-tron GT quattro1 models, which have been built at Böllinger Höfe with net zero emissions since 2020. As part of its Mission:Zero environmental program, Audi has set itself the goal of achieving net carbon neutrality at all its sites worldwide by 2025. By then, the final steps will have been taken in Neckarsulm and San José Chiapa (Mexico).
Sustainable heating
Dr. Rüdiger Recknagel, Head of Environmental Protection for the Audi Group, explains: "A neighboring refinery and the municipal waste recycling plant supply the main plant with net carbon-neutral waste heat. Additionally, we have secured large quantities of biogas to ensure a net carbon-neutral heat supply."
In this way, the site covers almost all of its energy needs from renewable sources. As the fourth andfinal pillar, any emissions that Audi cannot yet avoid (a maximum of 10 percent of the original carbon emissions) are offset by purchasing carbon credits that are certified according to the highest quality standards such as Gold Standard. At the Ingolstadt plant, this also includes logistics within the plant.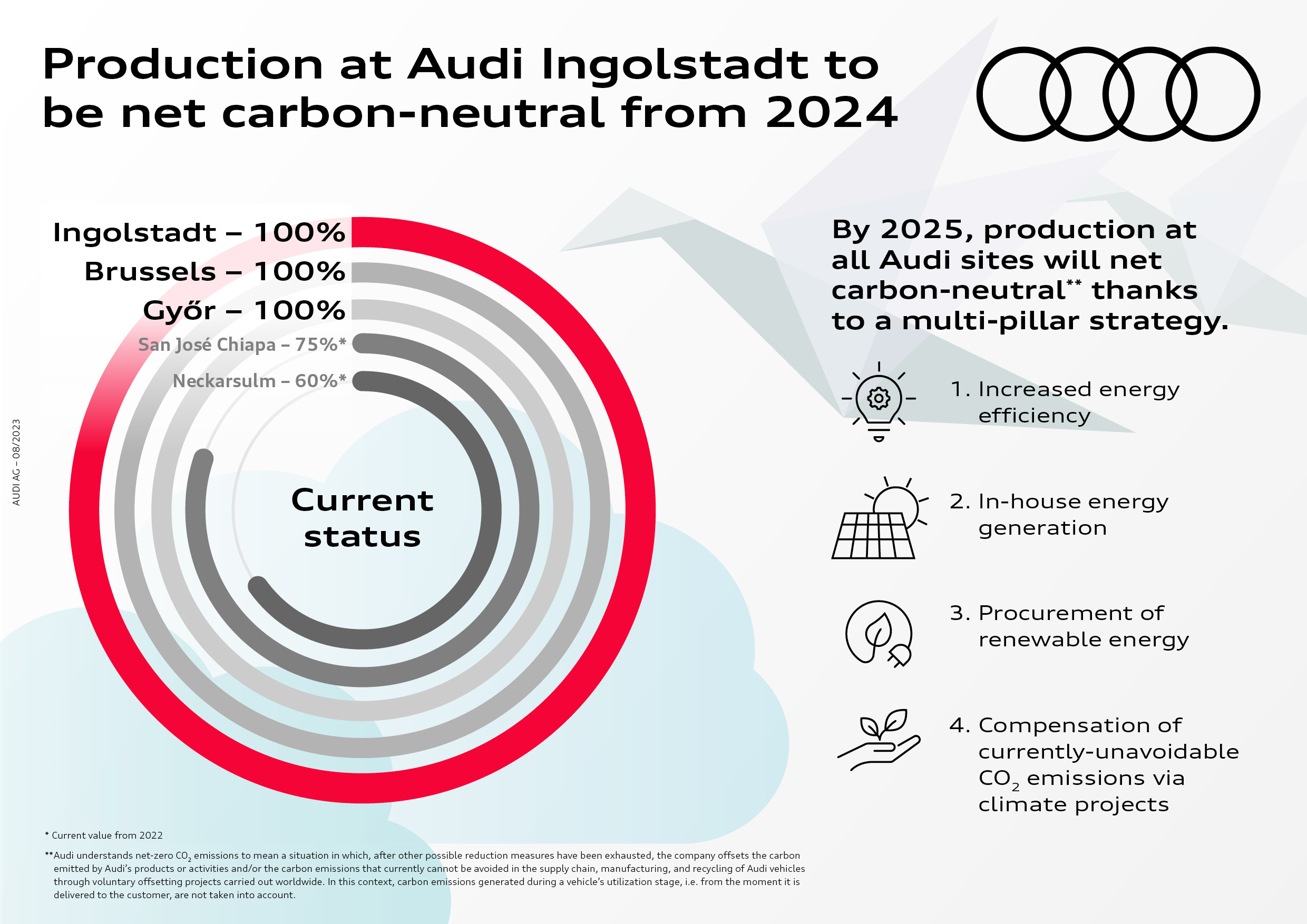 Mission:Zero: Going beyond decarbonization
The measures of the environmental program Mission:Zero go beyond decarbonization and address the key areas of activity of water use, resource efficiency, and the protection and preservation of biodiversity. Audi's vision is to create a circular economy where resources such as plastics, water, and other raw materials are used in closed cycles. In Ingolstadt, for example, the company has been operating a process water supply center with a membrane bioreactor since 2019 to use water more efficiently. This year, Audi became the first premium car manufacturer to join the Alliance for Water Stewardship (AWS). Audi plans to halve the ecologically weighted water consumption at its production sites worldwide by 2035. The plant in San José Chiapa, Mexico, which has been building cars without producing any wastewater since 2018, stands as a role model for the responsible use of water resources.
The 360factory and sustainable land use
Audi is also focusing on sustainability in the further development of its sites: Audi Production is using the transition to e-mobility to comprehensively transform its global production network and has a clear vision for the production of the future with the 360factory . As part of this holistic, sustainable approach, Audi is modernizing, digitalizing, and transforming its existing plants for the future. With the 360factory, Audi can achieve even greater flexibility and efficiency in production without sealing additional areas for new buildings.
When it comes to sustainable land use, Audi is going one step further by revitalizing a former industrial site. The incampus in the south of Ingolstadt is also integrated into the company's sustainability activities as a branch of the main plant. A joint venture between AUDI AG and the city of Ingolstadt through its holding company IFG AöR, incampus GmbH has redeveloped a 75-hectare industrial wasteland in the east of Ingolstadt. A technology park was built there – without developing any new land. Fifteen hectares of the total area were designated as a compensation area for nature and landscape; a near-natural alluvial forest with nutrient-poor grassland now thrives there.